Secure Innovation work with Gunnebo
ibox Safepay & Gunnebo
Closed cash cycle
We created the ibox® Safepay in partnershop with Gunnebo.
Gunnebo SafePay counts the cash into the closed loop. The cash is transferred via the Cash Transfer Unit from the point of sale to the SCL unit in the back office. The cash is counted directly into the iBox® Safepay through an automated note acceptor. When a pre-defined limit is reached, a cash in transit collection request is made. Reducing cash-in-transit costs with this dynamic system. Removing inefficiency while still keeping the cash safe. Automated cash counting and tracking means retailers accounts are credited within hours.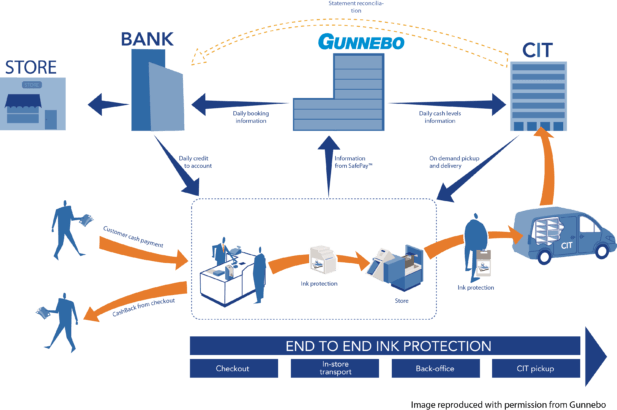 The CIT guard exchanges the full ibox for an empty unit and the collected ibox is opened at the cash centre where it is remitted to the customer's account. Removing risk of fraud with the closed cash cycle.
By automating the counting process, errors are eliminated and the retailer can receive crediting to their account within a few hours. The cash values are tracked at all times throughout the process.
More information on the iBox® Safepay retail solution with Gunnebo can be found here.