Secure Innovation and the Local Community
Our mission is to listen, innovate and support. This is relevant to customers, employees and communities. As an employer of over 100 people in Saltash, Plymouth and the surrounding area, we believe it is important to support the community around us.
Local Community and Support
Every year we ask the team to suggest charities they would like to support. The nominations are then voted for via a secret ballot to determine the charity we raise money for over the next 12 months.
Throughout the year we host small events such as cake and the infamous Christmas raffle to add to the pot. Not to mention our weekly raffle, where half of the winnings go to our nominated charity.
In 2022 we raised nearly £1,500 for St Luke's Hospice Plymouth, which was then matched by the board of Directors to bring the total to nearly £3,000. St Luke's Hospice is a pillar of the community delivering the best possible care, advice and support for people with serious illnesses, and their families. Secure Innovation is honoured to have helped with some of those journeys.

"We were surprised and delighted to hear that the staff at Secure Innovation Ltd had nominated St Luke's Hospice as their chosen charity. What incredible support they have shown over the year, with the additional boost of match funding from the directors. What a fantastic donation which will go a long way to supporting our work in the hospice and the communities of Devon and Cornwall. Thank you from all the staff, volunteers and patients at St Luke's Hospice."

Wayne Marshall | New Partnerships Lead | St Luke's Hospice Plymouth
In 2023 the team at Secure Innovation are raising money for Gables in Plymouth, who care for and re-home up to 1,000 cats and dogs each year. Animals are such an important part of human life, not only providing companionship, but studies show they help reduce stress, anxiety and depression. Evidence suggests that attachment to pets is good for human health and even helps build a better community.
Theatre Royal Plymouth
For over 15 years we have been a proud corporate sponsor of the Theatre Royal Plymouth. This gives us the opportunity to share tickets to the theatre with our team throughout the year. Each month we have a raffle where the money raised goes to our aforementioned charity of the year, and the winner gets two tickets to enjoy a night at the theatre. The TRP is an integral part of the local community, providing dozens of inspiring projects for all ages and walks of life.
"We're so grateful for the longstanding support given by Secure Innovation, as Corporate Members of Theatre Royal Plymouth for over a decade. Their support has helped us to engage with people from all backgrounds in the local community, developing skills, confidence and friendships, as well as helping us to inspire the next generation of theatre makers through our work with local emerging artists. Thank you, Secure Innovation!"

Erika Vitai | Development Manager | Theatre Royal Plymouth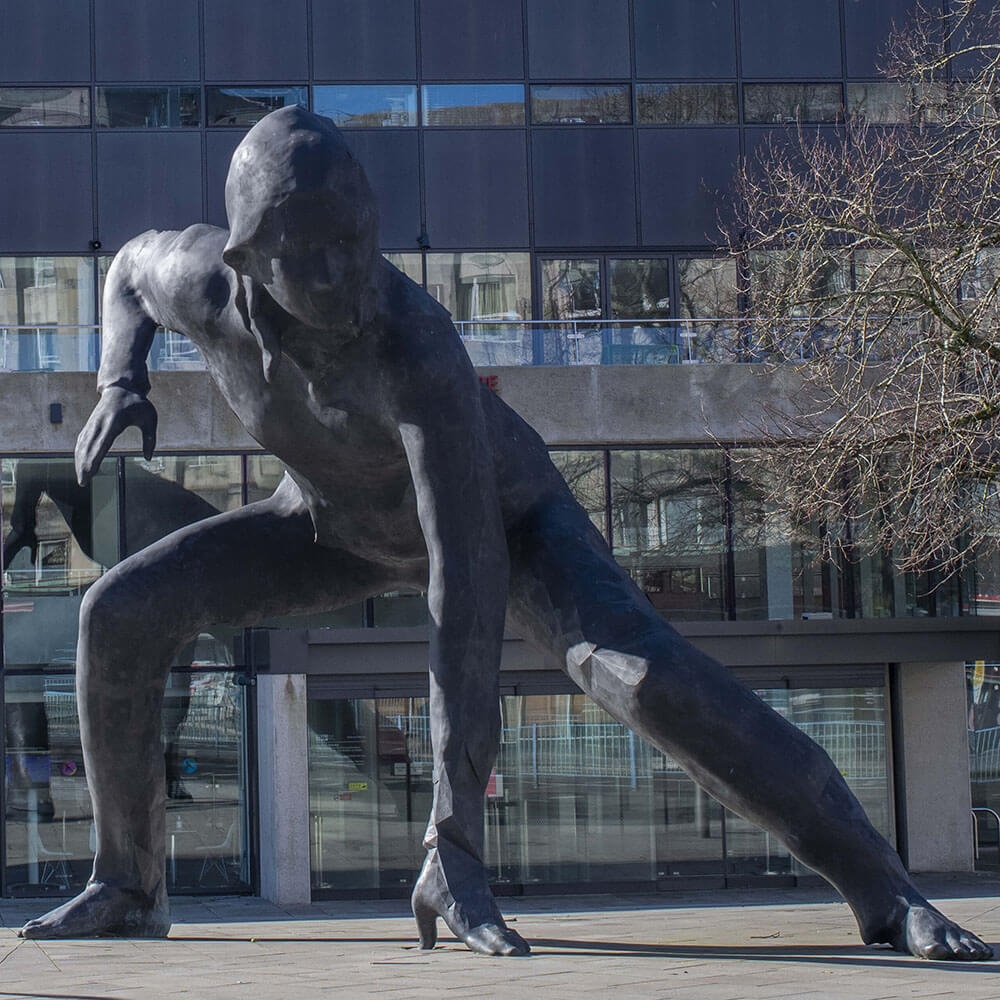 NSPCC
In collaboration with the TRP, each Christmas the NSPCC host a festival of trees in the reception of the theatre. This magical display is supported by a number of local companies and Secure Innovation is delighted to have been one of those businesses for several years. Last Christmas a team of Secure Innovation elves dressed 3 trees to mark our rebrand from Spinnaker in the local community. The trees took pride of place opposite the bar for the month of December and helped to raise over £12,000 for the charity.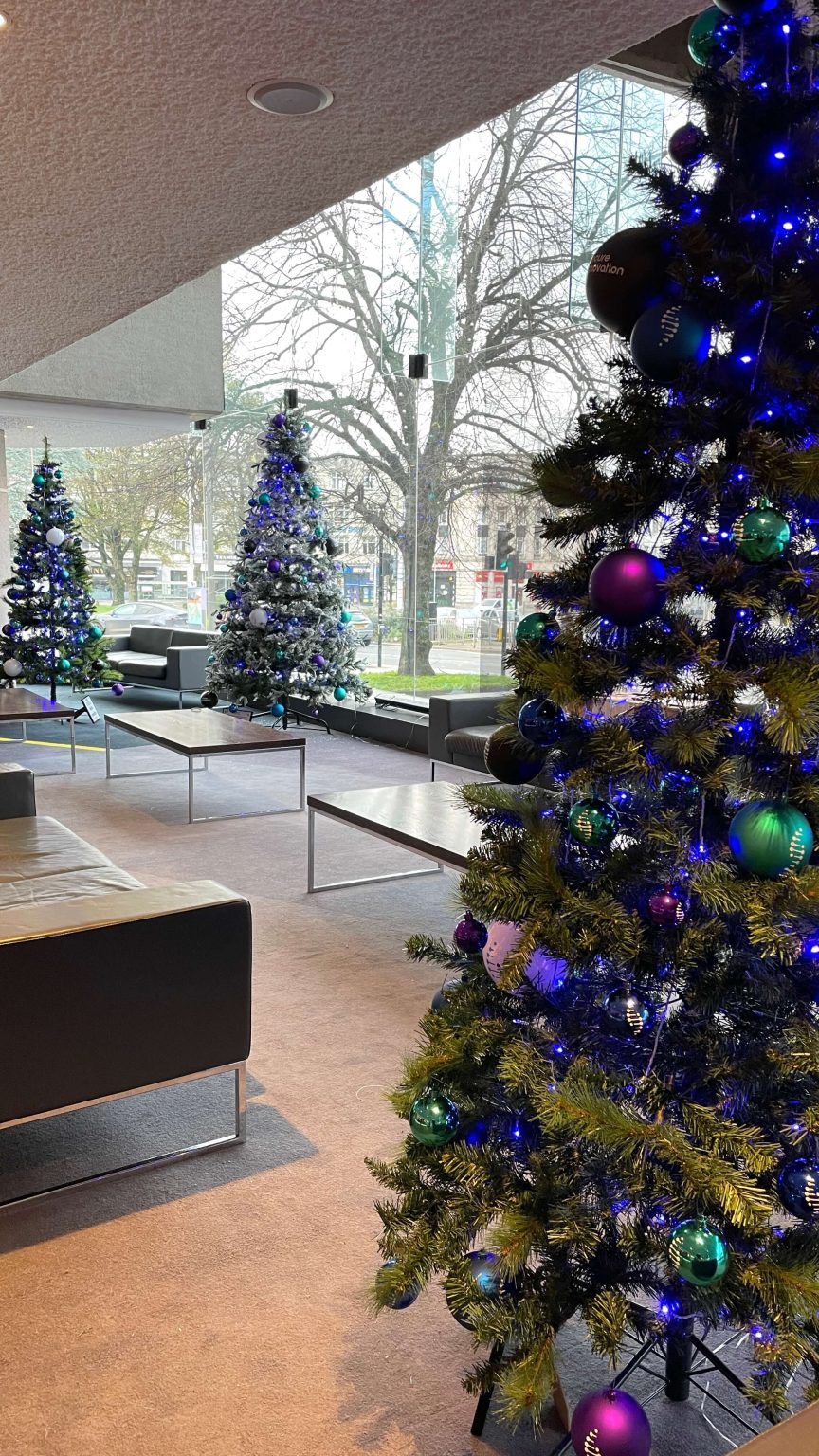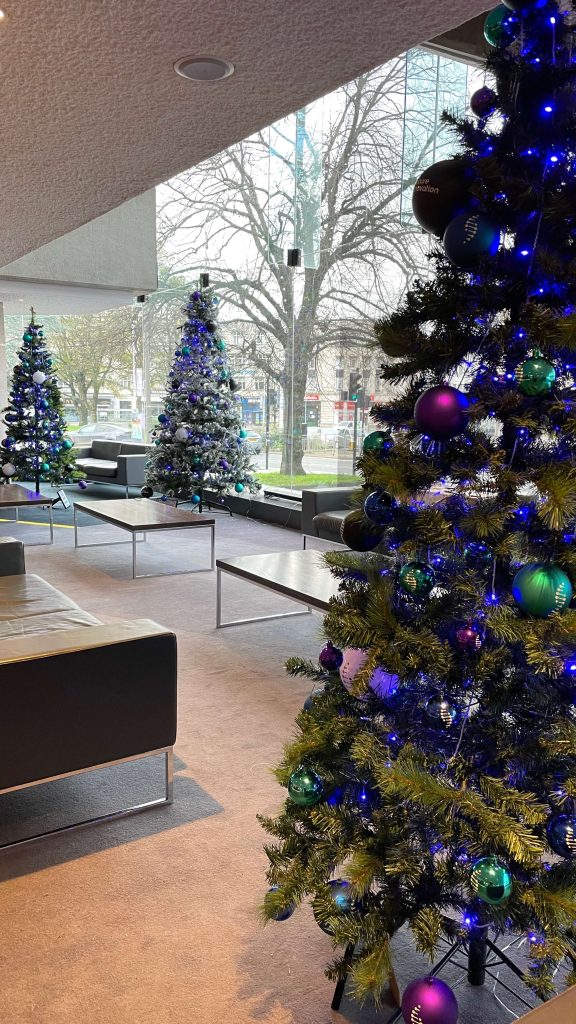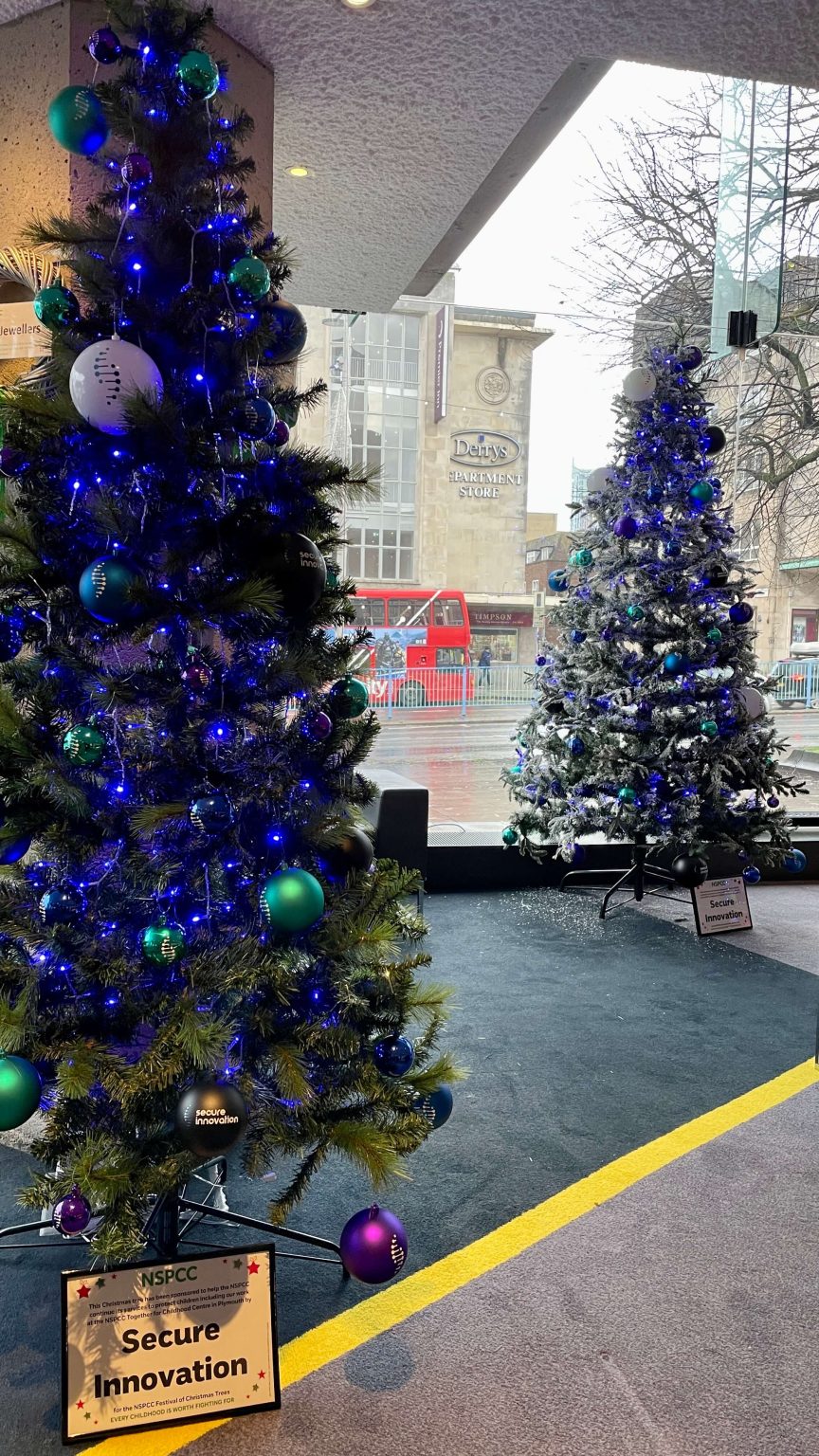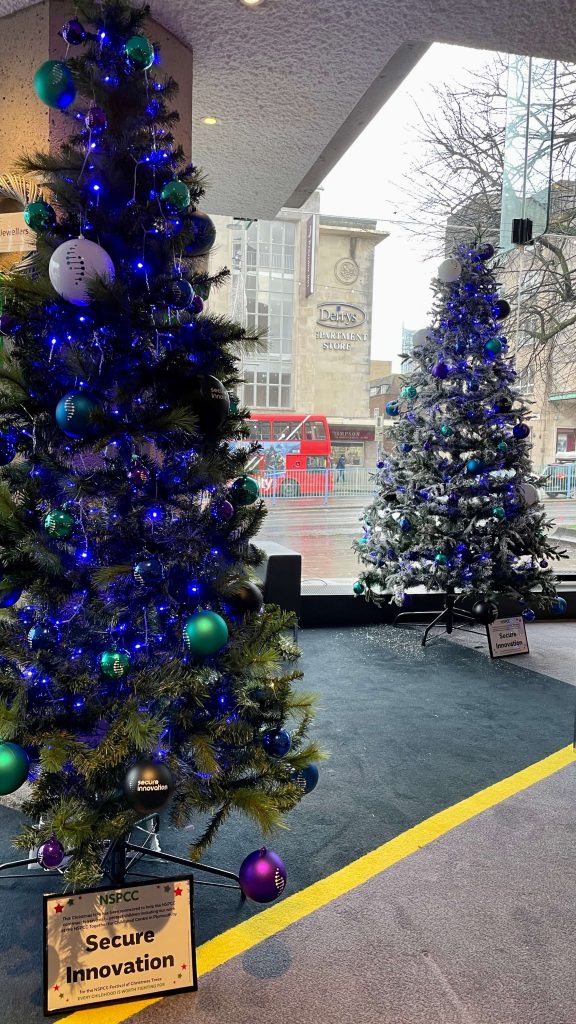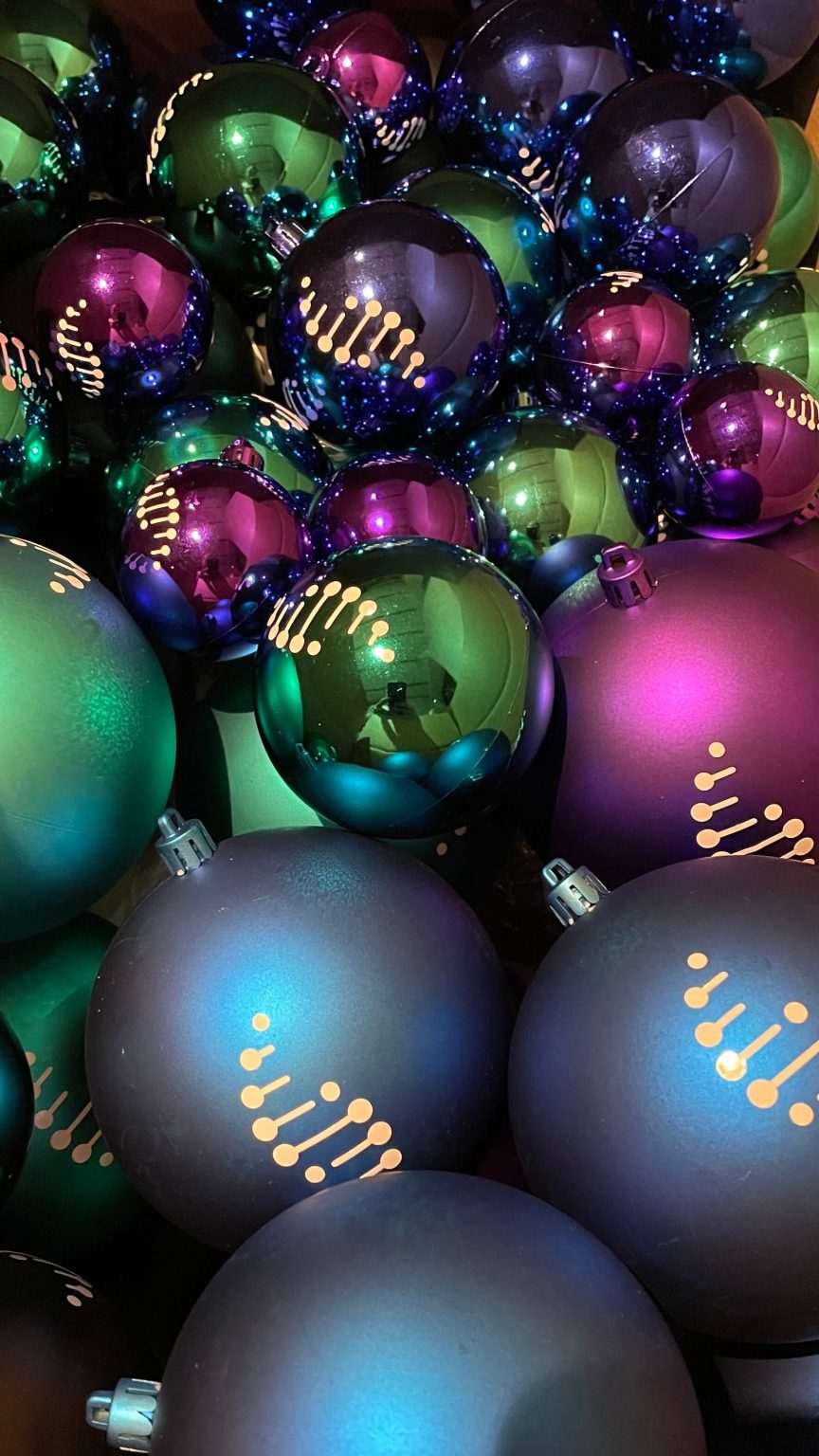 The NSPCC is an important lifeline for so many children, especially at Christmas. Childline is the only UK service open 24/7 throughout Christmas for children to talk about anything that's worrying them. Even on Christmas Day, children who are suffering abuse or feeling suicidal will need to reach out for support. The funds raised have helped both children locally and around the U.K.
Careers at Secure Innovation
We support our employees by promoting a positive culture in our hubs around the world. We believe it takes an entire team to revolutionise the future of security technology and encourage that team to challenge themselves and learn new skills through career development programmes. We empower our team to grow through communication, collaboration and training and encourage an enjoyable, engaging environment with supportive relationships.
We also offer every employee supportive health and wellbeing programmes for both body and mind. June sees our team taking part in 'Wellbeing Week'. An opportunity to learn about mindfulness, improved fitness as well making the most of our company Healthcare plan.
As it states in our values, we believe in people. And we are always looking for talented people to join our team, if you're interested you can either view our current opportunities, or email hr@securein.com