Protecting your ATM from attacks – A guide to ATM security
ATMs are embedded into our daily lives for financial transactions. They provide convenience, but due to the sensitive nature of the information passed at an ATM and volumes of physical cash, it is a high-risk area for crime. Therefore, the security surrounding the machine is extremely important.
What is ATM Security and why is it needed?
ATM security aims to remove danger or threat to its users and the machine itself. There are a few different elements to consider, including its transactions, the customers data and the physical cash carried in the machine.
The 2022 European Payment Terminal Crime report from the European Association for Secure Transactions found that ATM explosive attacks (including explosive gas and solid explosive attacks) were up 16% (from 629 to 727 incidents) and attacks due to ram raids and ATM burglary were up 8% (from 447 to 484 incidents).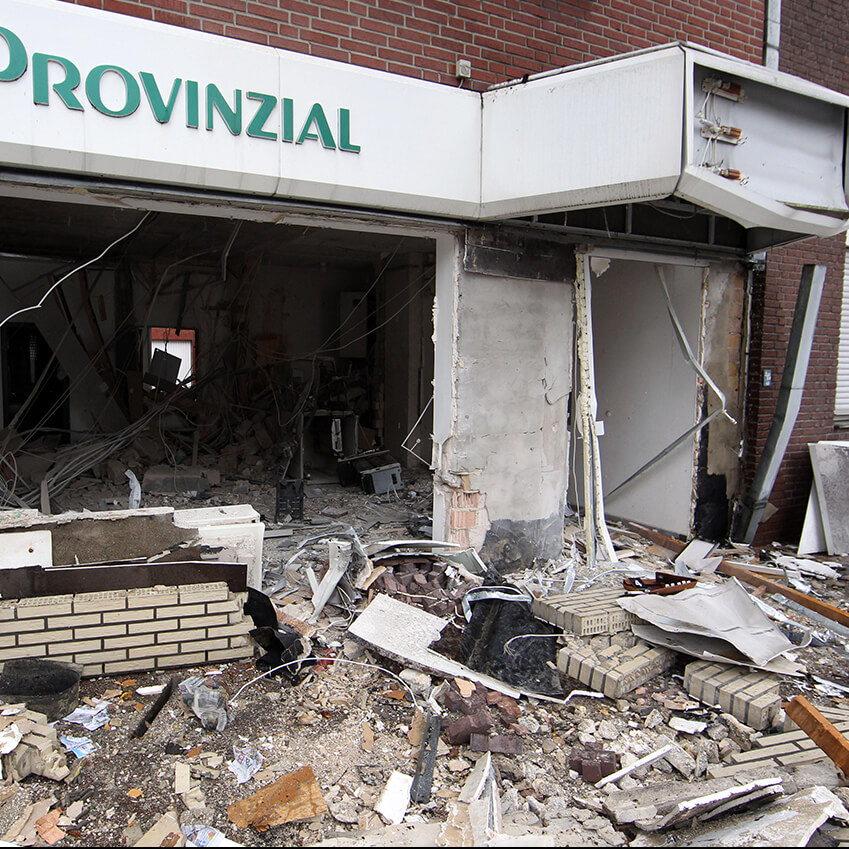 These statistics show just how important it is to have high levels of security at the machine to deter from physical attacks. The best way to deter from such attacks is to deploy several layers of security.
Secure Innovation has been working for 40 years to develop cutting edge technology to protect people, businesses, and their cash.
What types of ATM attacks can happen?
ATM attacks are commonly broken down into two types: Physical and Logical. Before you deploy any security measures across your ATM network, it's worth evaluating what type of attacks have occurred or might occur in the local area. This will allow you to implement the best security solutions.
Physical attacks cover any incident where a criminal tries to extract the cash from the machine. Due to the nature of these attacks, they involve a high level of disruption and damage to the ATM area and surrounding community. Often, these attacks take place in town centres close to residential areas, increasing the risk of injury to members of the public. Typical examples include:
Pull-Outs or Smash and Grab: Involves the machine being completely removed from its location so it's content can be taken later.
Explosions: A devastating and dangerous attack involving the use of gas or solid explosives to blow up the machine and access the cash.
Angle Grinder/Drilling: The use of tools to break into the safe and steal the cash.
Logical attacks cover any incident where a criminal tries to access a user's sensitive financial information or attacks the network to steal money and complete fraudulent crimes. Typical examples include:
Skimming or Shimming: A device is attached to the ATM machine which reads and stores the information on the card inserted. A clone of the card is made allowing criminals to use it fraudulently.
Network Eavesdropping: A computer system is used to intercept the ATMs network and access the data transmitted.
Jackpotting: Where the criminal gains control of the machine and sends it a command to release all its cash.
What are the different types of ATM Security?
There are many layers to fully securing an ATM to deter from crimes such as attacks, theft, or fraud. We have broken it down into four main categories which are:
Physical security: A deterrent to prevent physical attacks which result in cash theft.  
Network security: Measures to ensure the secure and safe connection between the ATM and the bank's server.
Software security: The layer below the network and relates to the programs used to facilitate a transaction and their protection.
User security: Anything put in place to protect the customer from fraud.
How are ATM machines secured?
The most effective approach to fully securing your ATM is to implement a combination of physical, network, software, and user security measures.
Secure Innovation has developed specific product solutions, so financial providers can put in place comprehensive security measures that provide peace of mind against ATM physical attacks.
The next generation in ATM cash protection, with intelligent remote management and attack detection sensors. a2m is a fully integrated system that sits within the ATM safeguarding from all types of physical attacks. Control the system with two-way encrypted radio via Hub+ to monitor, send commands and operate remotely.
Intelligent sensors detect many types of attack, including:
Removal detection sensors are triggered if an ATM cassette is removed from a safe location, such as the from the ATM or from an ibox cassette during cash-in-transit.
Seismic sensors detect vibrations to protect against attacks from power tools, such as angle grinders and drills.
Jackpotting sensors detect the use of illegal software to withdraw cash from the ATM and stops the attack by blocking access to the data.
Temperature sensors detect extreme temperatures which indicate some types of attack.
If an attack takes place, the system will automatically release a specialist IBNS ink stain, permanently neutralising the cash value. Use with CrimeTag®, a unique forensic tracing technology to trace cash and provide an evidence chain to secure convictions.
Recognised as the only portable, safe, and fast system for ATM gas attack protection, Core offers easy installation and operates within the heart of your ATM.
It is designed to detect explosive gas attacks and respond instantly, neutralising explosive gases with a non-toxic gas suppressant. The Core system is also equipped with a two-way radio that alerts your security team and allows Core to communicate with other Secure Innovation products for remote management and activations.
A joined-up tracking solution enabling fully integrated communication between cash security cases, cash-carrying vehicles, ATMs and security company control centres.
Developed in partnership with the European Space Agency, this efficient system allows you to reduce the amount of time managing and tracking your assets while giving you real-time visibility of their location and security status with remote asset communication.
In summary, ATM security is a vital aspect of modern banking, requiring a comprehensive, multi-faceted approach. The intelligent systems provided by Secure Innovation give robust solutions that protect the machine and its cash.
Secure Innovation invest heavily in the research, design and development of their products to deliver best in class solutions. This includes partnerships with the European Space Agency and Knowledge Transfer Partnerships with leading Universities.